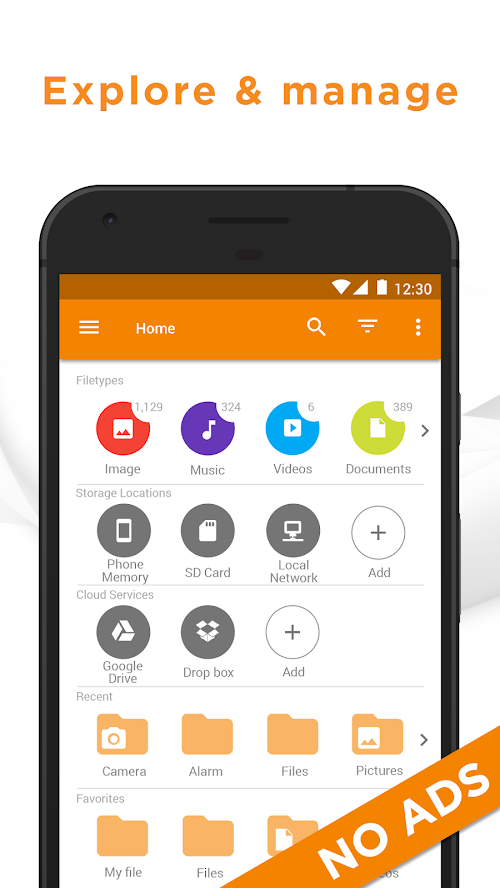 We did not forget to create this new best app free for Android in 2019 that you need to test. We are going to show you today a new list of best free file manager apps for 2019.
We already talked about best personal finance apps and other stuff like best apps to find gas or other like weather. You can get more if you look on tags system.
So lets get back to our main stuff. We need a good file manager as this will help you get to the files we download and use. This are our recommendation for best file manager apps for Android.
Files by Google is a file management app that helps you free up space, find files with search and browsing, share files, back up files to the cloud
Features:
FREE UP MORE SPACE
CHECK YOUR STORAGE
BE IN CONTROL
BOOST PHONE PERFORMANCE
SMART RECOMMENDATIONS
FIND FILES FASTER
EASILY MANAGE FILES
SHARE FILES OFFLINE
ENCRYPTED FILE SHARING
BACKUP FILES TO THE CLOUD
BACKUP FILES TO THE SD CARD
EFFICIENT, EFFECTIVE STORAGE MANAGEMENT
Manage your files efficiently and easily with ASUS File Manager! Handle all your files whether they are stored in your device's memory, microSD card, local area network, and cloud storage accounts.
Features
Search, access, save, move, delete, or share files that are stored in your smart device's internal storage to or from a microSD card, LAN, or Cloud storage accounts and vice-versa.
Manage files within your LAN (local area network) and SMB (Samba) network.
Supports cloud storage accounts such as ASUS WebStorage, Dropbox, Google Drive and Microsoft OneDrive
Stream multimedia files such as music or videos or open documents, pictures, or photos stored in any of your Cloud storage accounts
Compress files to save space of your storage and extract compressed files in Zip and RAR formats
Browse files easily by category right from File Manager's home screen: images, videos, music, applications, downloaded, and favorites.
Storage analyzer, recycle bin and hidden cabinet let you manage your disk easily.
FX File Explorer features a Material Design UI and new ways to transfer your files between devices and computers.
FX is a file explorer built to make working with files and media on your phone or tablet as easy as it is on your computer.
Features:
Support for most file archive formats
No advertisements
No tracking of user activity: FX does not ever "phone home"
Access networked computers, including FTP, SSH FTP, WebDAV, and Windows Networking (SMB1 and SMB2)
Connect to cloud storage including Google Drive, Dropbox, SugarSync, Box, SkyDrive, and OwnCloud
Manage installed applications, with support for browsing applications based on their required permissions
Create and explore inside AES-256/AES-128 encrypted zip files
Browse audio content by artist/album/playlist; manage and organize playlists
Directly browse photo and video folders
Encrypted password keyring (use one password to access network and cloud locations)
Text Editor (with undo/redo history, cut/paste, search, and pinch-to-zoom)
Binary (Hex) Viewer
Image Viewer
Media Player and pop-up Audio Player
Zip, Tar, GZip, Bzip2, 7zip archive creators and extractors
RAR file extractor
Shell Script Executor
Astro is the best file manager and memory cleaner app to make the most out of your internal and external storage and boost phone memory.
Features:
File manager : Move, copy, rename, share, compress and delete files on internal storage, SD card and cloud space.
SD Card Manager : Move files easily between your internal storage and SD card. Thousands of Astro users leverage their storage to its fullest with these memory cleaner features.
Cloud Manager : Manage your cloud space and backup photos to cloud easily. Free up more space and speed up phone in seconds.
Compress files : Convert files to Zip and RAR formats. Enjoy saving memory space and sharing files with fewer data. You can reopen the compressed files anytime via the built-in zip file opener and RAR extractor.
Manage Apps : Easily backup apps to SD card with this backup assistant. Get your apps back even after a factory reset. Delete and uninstall multiple apps within seconds with this memory cleaner.
Backup Photos and Files : Move, copy and backup files to SD card or to cloud space. Clean your phone easily and never lose your files again with this file explorer app.
Extract Files : Open Zip and RAR files with the built-in ZIP file opener and RAR extractor. These top-rated file organizer features let you compress and decompress files conveniently.