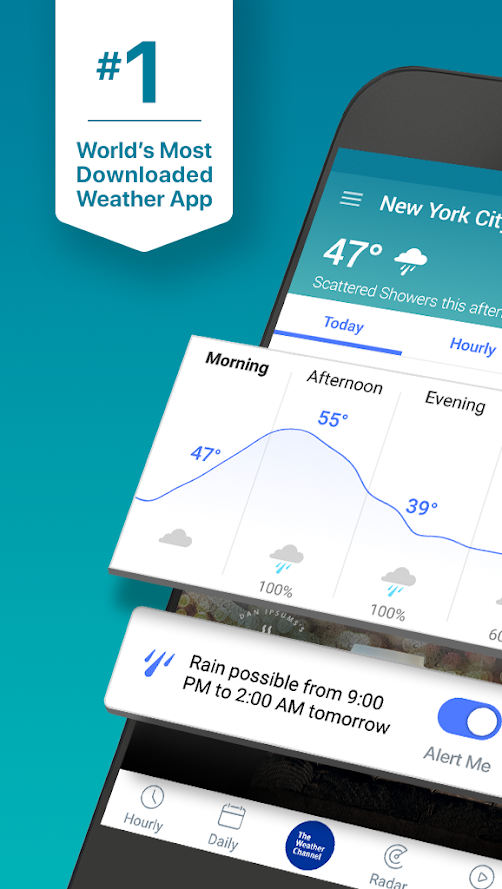 When it comes to weather apps it is important to have the best one on your phone. On Android there are a lots of apps that you can check the weather and have the best results
We worked on a list of apps for 2019 that are the best app you can use in 2019
Dark Sky is the most accurate source of hyperlocal weather information. With down-to-the-minute forecasts, you'll know exactly when the rain will start or stop, right where you're standing.
Features:
DARK SKY FREE – free to download and includes a full 24-hour forecast, a detailed 7-day forecast, current conditions, multiple saved locations, historical data, and beautiful weather maps.
Down-to-the-minute Forecasts
Rain Notifications and Alerts
Temperature in Status Bar
Widgets
Wear OS
Prepare for your day with the most accurate hourly, 5-day, and 10-day forecasts. Stunning Flickr photos match your location, time of day, and current conditions.
Features
Details: wind, pressure, and chance of precipitation.
Animated sunrise, sunset, wind, and pressure modules.
Interactive maps: radar, satellite, heat, and snow.
Track all your favorite cities and destinations!
Weather Underground Android app provides the world's most accurate hyper-local weather forecasts in addition to interactive radar, satellite maps and severe weather alerts.
FEATURES
Status notification: instantly view current temperature and conditions
Current conditions from your local weather station include temperature, feels like, wind speed & direction, humidity, dew point, visibility
10-day Forecasts (Daily, Hourly) + text summary
Interactive Map showing all the personal weather stations in your neighborhood with animated radar, satellite, and much more data
Favorite Locations and Recent Searches
Crowd reporting
Light or Dark mode
Switch between Forecast on Demand & NWS Forecast
National Weather Service Radio
Health Tile: Monitor air quality, UV risk, & local flu outbreaks
Customizable Widgets
Push notifications: keep an eye out for extreme weather with severe weather alerts
Purchase ad free subscriptions for $1.99 per year
Get the local weather forecast news delivered directly to your phone or tablet. Prepare with severe weather reports and live radar maps.
Extreme weather alerts and forecast information is available wherever you are! Get daily local weather news and extreme weather alerts so you can live life with confidence. The Weather Channel provides accurate reports that help you plan up to 15 days in advance.
Features:
Get faster access to weather updates with our new navigation bar!
Don't get caught in the snow or a blizzard! Our severe weather alerts will help you weather any storm.
Check the daily forecast and come rain, shine or even thunder, you will be prepared for whatever the day throws at you!
Daily temperature, wind speed and blizzard updates
Don't get caught in the storm with information on sunset times, cold and flu reports and the latest forecast radar updates.
Run smart with Running Index!
Get high-risk allergy alerts and medical advice to help you beat them
Winter means you need to stay warm
push notifications and get live weather updates!
Snow alerts & trending conditions