A few hours ago i have create an article with the best new Android apps from May 2016 and now is time to do the same for best new Iphone, iPad apps from May 2016.
Do you wish to try something interesting and new? This are the best new apps for iOS that appeared on May 2016.
STUTTR – Remix your video with music –
Free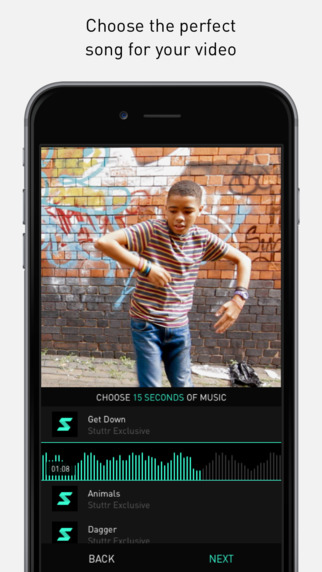 Create Original Videos that Bounce to the Beat!
Stuttr is a one-of-a-kind video editing app that allows you to "time-shift" your videos back and forth. Bring new life to your videos with the simple tap of a button. Transform your everyday actions into something spectacular.
How Does it Work?
-Choose any video (even the boring ones will work).
-Choose a song from your library that complements your video. No music? No problem. Use one of Stuttr's exclusive tracks.
-Use the Stutter button to shift your video back and forth to the beat of the music.
-Save and Share your new video to Instagram, Facebook, Twitter, and more.
-Need inspiration? Check out our featured Stuttr videos created by users like you from around the world.
Make sure to submit your video for a chance to be featured!
Download
Talkshow –
Free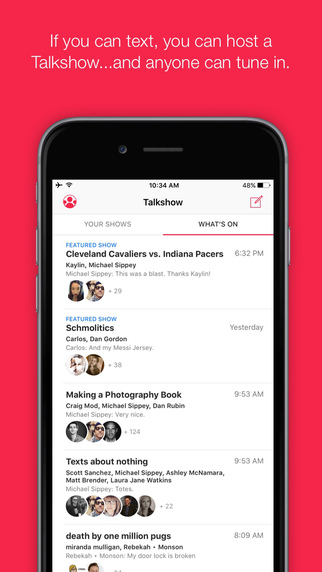 f you can text, you can host a Talkshow…and anyone can tune in. Talkshow is texting in public.
Talkshows can be about anything: sports, TV, politics, music or what happened last night. It's as easy as sending messages, pics & GIFs with your friends. Notify your followers when your Talkshow is live: your audience can like your messages, send reactions and ask to join you as a co-host. Share your Talkshow to the web so the world can see what you're talking about.
Features:
[+] Share any Talkshow to Facebook, Twitter and the web
[+] Anyone can tune in to your show, even if they don't have the app yet
[+] Ask to be a co-host of any Talkshow
[+] Find your friends via Facebook, Twitter or your address book
[+] Get notified when people you follow are live
[+] Universal app: designed for iPhone and iPad
Download
Word Flow Keyboard –
Free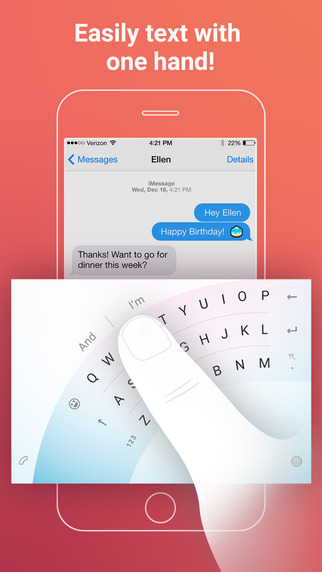 Word Flow for iPhone, a Microsoft Garage project, is a blazing fast keyboard that comes with free customization options and includes Arc mode for easy, ergonomic one-handed typing.
Blazing Fast
• Whether you're tapping or swiping, Word Flow predicts what you're trying to type and corrects mistakes.
• Word Flow intelligently suggests the next word in your sentence, and gets better at it over time.
• With access to your Contacts, Word Flow predicts the names of your contacts so you can go even faster.
Personalized – just how you like it
• You can customize Word Flow background using one of the images included in the app, or use your own favorite image.
• All the images included with the app are free and we'll keep adding new ones.
Best for one-handed typing: Switch to Arc mode and easily reach keys on larger screens for a more ergonomic one-handed typing experience.
Word Flow on iOS is optimized for iPhone, and supports English language only.
Download
Fullscreen –
1 Month free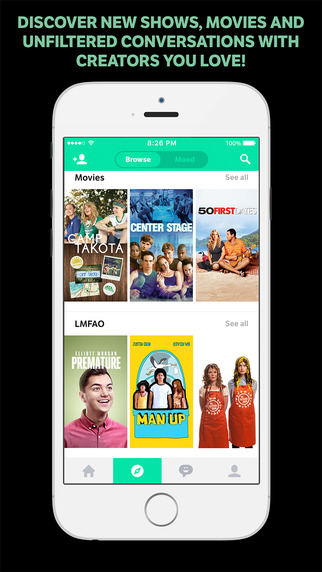 Watch exclusive shows featuring your favorite stars, feature films, TV shows, and popular digital series. Create GIFs from the best parts of the show and share them with your friends. A subscription (try 1 month free, then $4.99/month) gets you immediate access to everything Fullscreen.
What content is included?
• Original shows and films featuring some of your favorite personalities, including: Electra Woman and Dyna Girl (Grace Helbig & Hannah Hart), Filthy Preppy Teens (Shanna Malcom), Jack & Dean of All Trades, Making Moves, Shane and Friends (Shane Dawson), The Outfield (Cameron Dallas & Nash Grier), Zall Good (Alexis G. Zall)
• Watch your favorite shows like: Buffy the Vampire Slayer, Chappelle's Show, Daria, Dawson's Creek, Happy Endings, Napoleon Dynamite and Saved By the Bell
• The best library of throwback movies in one place, including: 50 First Dates, Can't Hardly Wait, Cruel Intentions, and Talladega Nights
• New films from personalities including: Camp Takota, Elliott Morgan: Premature, Man Up, and Summer Forever
• Find content to fit your every mood with over 800 hundred hours of programming available every month
Stream now from your iPhone, iPad, laptop, and connected TV devices.
Start your free trial – cancel anytime!
Download