Do you take pictures with your phone? We do!
So what camera app for Android do you use? Do you use your default camera app?
We want to tell you that are way better apps for you Camera if you want to try it. Here is a list with best camera apps for Android phones
Camera FV-5 –

$3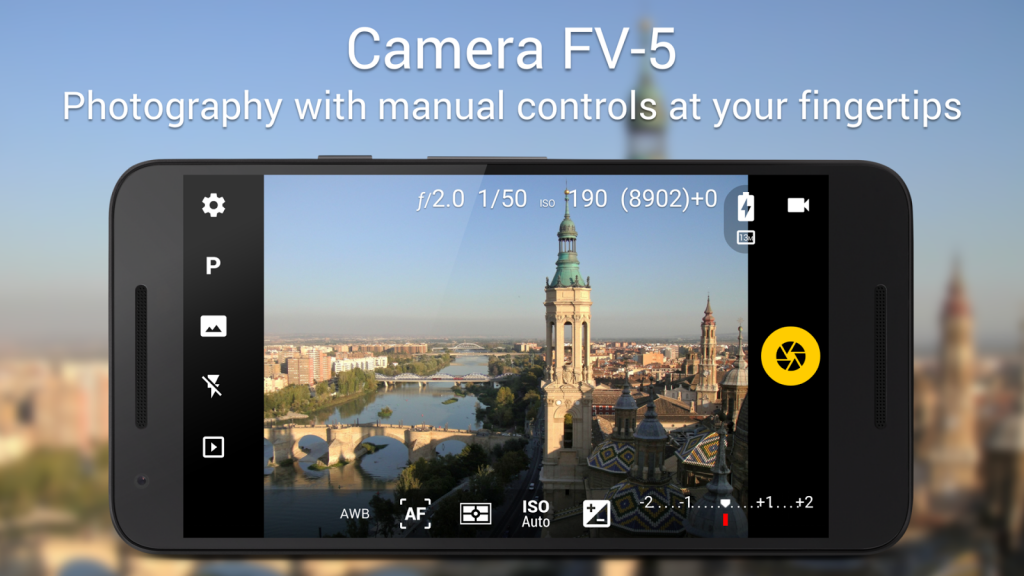 Camera FV-5 is a professional camera application for mobile devices, that puts DSLR-like manual controls in your fingertips. Tailored to enthusiast and professional photographers, with this camera application you can capture the best raw photographs so that you can post-process them later and get stunning results. The only limit is your imagination and creativity!
Major features:
● All photographic parameters are adjustable and always at hand: exposure compensation, ISO, light metering mode, focus mode, white balance and program mode.
● DSLR-like viewfinder display: see exposure time, aperture and stops display with EV and bracketing settings, in real-time!
● Full fledged exposure bracketing: from 3 to 7 frames, unlimited stops spacing, plus custom EV shifting.
● Built-in intervalometer: make stunning timelapses (even bracketed/HDR timelapses) and time-controlled picture series.
● Program and Speed-priority modes.
● Long exposure support: take beautiful night photos and light trails with long exposure times up to 30 seconds**.
● JPEG, true 16-bit RAW in DNG format*, and lossless PNG photo capturing formats, perfect for post-processing.
● Manual shutter speed: from 1/80000 to 2″, or the range available on your device*.
● All camera functions assignable to volume keys. You can adjust EV, ISO, color temperature and more using volume keys. Devices with hardware camera shutter key are also supported.
● EXIF and XMP sidecar metadata support.
● Autofocus, macro, touch-to-focus, true manual focus* and infinity focus modes. Autofocus lock feature (AF-L).
● Autoexposure (AE-L) and auto white balance (AWB-L) locks in Android 4.0+.
● In background photo and RAW developing and processing allows a smooth, uninterrupted camera operation.
● Digital zoom using multitouch pinch gesture. Also shows 35mm equivalent focal length!
● The most advanced electronic viewfinder: live RGB histogram, 10 composition grid overlays and 9 crop guides available.
● Powerful organization options: different storage locations and fully customizable file names (even with variables).
● The user interface is available in more than 30 languages.
This camera application completely avoids scene modes, instead you get full manual control over all photographic parameters, just like you do with a reflex camera, so you can ultimately control every aspect of the picture, and leave the post-processing to the computer. So after your DSLR, you will never miss a photo opportunity again, being able to capture it with the closer sensation to your DSLR
Download
Camera360 –

Free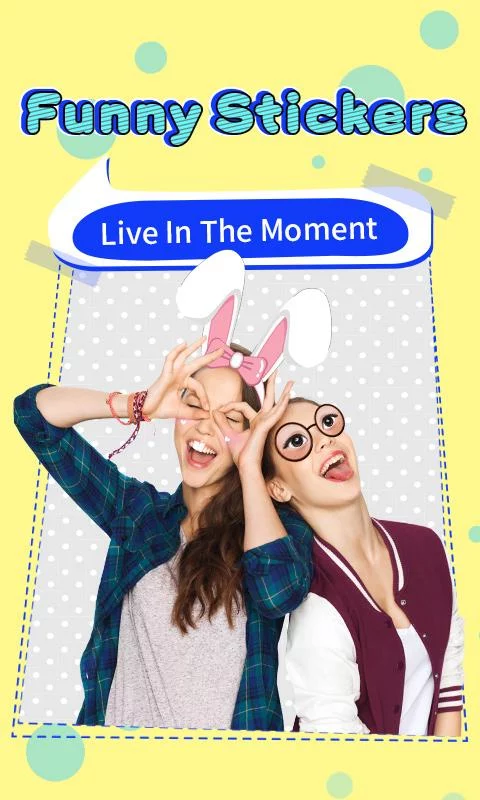 Feature Highlights
Funny Stickers
Those regular stickers are all outdated! The revolutionary Funny Stickers are here!
All kinds of stickers, with Smart Facial Recognition to help you stick them on your face with you move; beards, ears, tears, blushing cheeks, bowties, etc. You'll never have to aim again.
Hold down capture button to record a short video; join capture challenges, one tap share to Facebook, Twitter; party with users around the world!
Note: Funny Sticker doesn't support Android OS lower than v4.1 and a few special devices.
Photo Challenge
All kinds of fun capture challenge themes for you to join; never worry about people not "Liking" your photos again!
500million users worldwide are all playing Capture Challenge; not only can you get ranked in real-time, you'll also get votes from users around the world. Capture Challenge now supports short videos; try Funny Stickers and videos together!
Exquisite Filters
Bring magic into your photos and create those blockbuster hits!
Over 100 classic filters to make you a master photographer
Interstellar, Star Story, Magic, Storm HDR unique filters
Beauty Selfie
Say goodbye to those fake faces, and start taking selfies that are natural and beautiful!
Quick-Fix: become a goddess in 1 step
3D Contour: highlight those facial features and shine in 3D
Touch Photography: easy to use, tap anywhere to capture
Night Selfie: don't let the night steal away your selfies
Photo Edit
Don't doubt yourself, just move your fingers around and soon, you too will become a master!
Cut, rotate, color temp, tone among 10 other professional adjustment functions to easily improve your skills
AR Camera
Unique internal AR Camera, to let you achieve a "time-traveling" interactive experience with Effects that rivals movie stars!
Download
ProShot –

$4
– CAMERA FEATURES —
+ Auto, Program, Manual, and two fully configurable Custom modes, just like a DSLR*
+ Manual, semi-manual, or automatic control over exposure, flash, focus, ISO, shutter speed, torch, and white balance*
+ Shoot in JPEG, RAW or RAW + JPEG* (RAW = .DNG file)
+ Light Painting mode with infinite shutter and live preview. Watch as your photos develop right before your eyes!
+ Shoot full resolution in 16:9, 4:3, and 1:1
+ Custom Aspect Ratio Mode: shoot in any aspect ratio you want, 21:9, 17:10, 50:3, it's all possible!
+ Burst, Timer, and Timelapse modes, all with full manual controls
+ Zero-lag bracket exposure up to ±3, in 1/3 stop increments*
+ Robust bracketing options, choose from exposure compensation, ISO, and shutter*
+ HDR, Night, and Action scene modes*
+ Auto ISO option, turns Manual mode into Shutter Priority*
+ Manual focus assist*
+ Live histogram
+ Front-facing camera with exposure control
+ Zoom with just one finger
+ Fully featured Camera Roll integrated into the viewfinder. View EXIF, support for video playback, media sharing, and delete
+ Grid overlay
+ Level with 3 different modes
+ Adjust JPEG quality, Noise Reduction quality, photo location
+ Shortcuts for GPS, screen brightness, camera shutter, and more
+ Most innovative camera UI ever created
Download
Instagram –

Free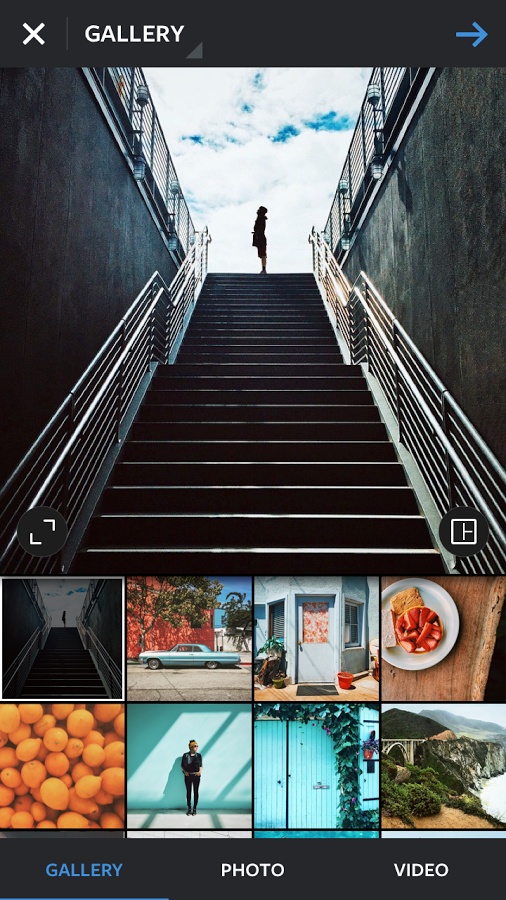 Even if Instagram is a social app this is also a very good camera app because it main purpose is to use pictures.
Edit photos and videos with free, custom-designed filters.
* Improve photos with 10 advanced creative tools to change brightness, contrast and saturation as well as shadows, highlights and perspective.
* Find people to follow based on the accounts and photos they already love.
* Instantly share photos and videos on Facebook, Twitter, Tumblr and other social networks.
* Connect with Instagrammers all over the world and keep up with their photos and videos.
* Send private photo and video messages directly to friends.
Download