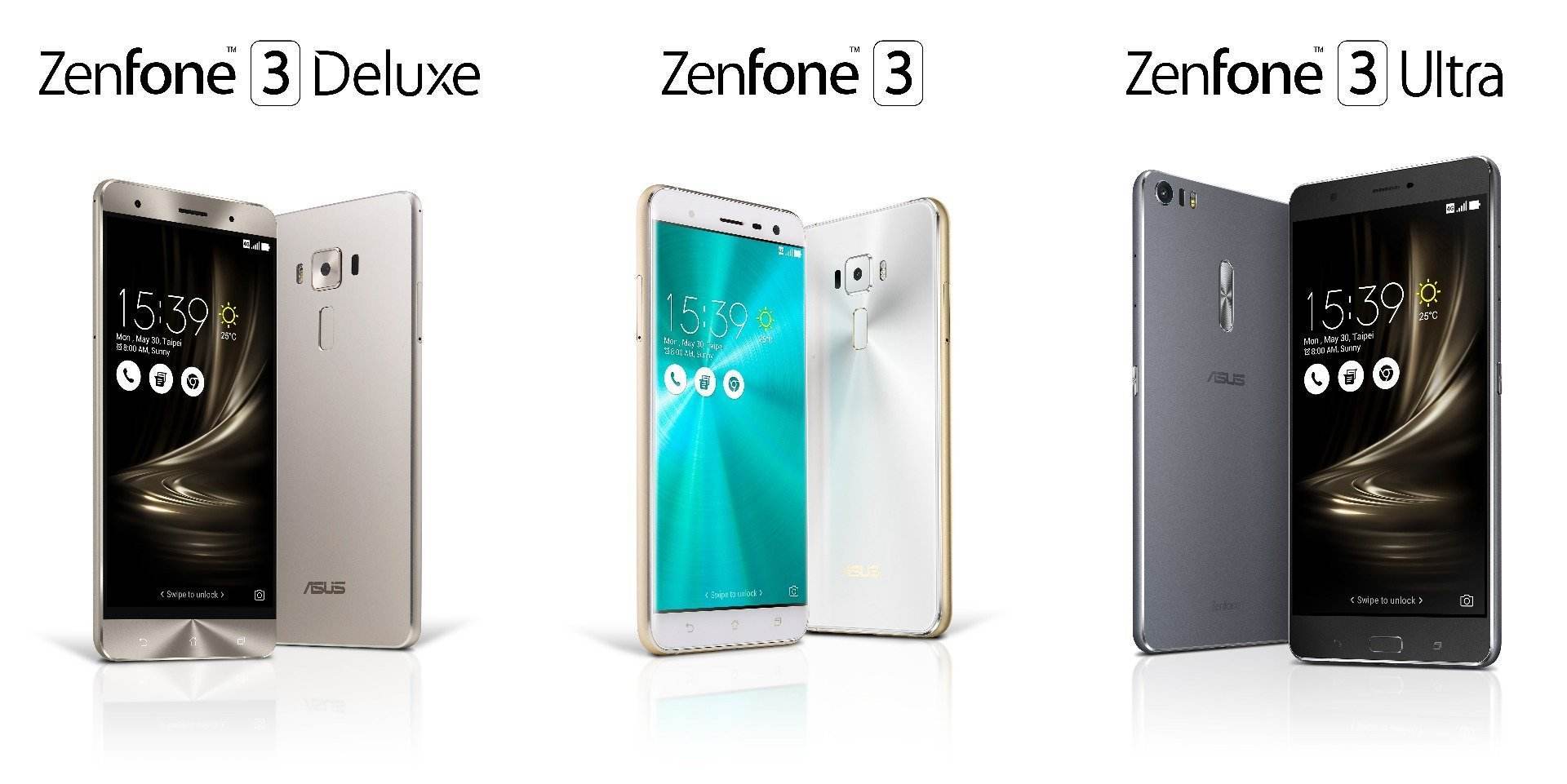 Asus has presented his own new family of smartphones ZenFone 3.
ZenFone 3
Asus ZenFone 3 is a feature-packed smartphone that brings premium design and empowering performance to just about everyone. You will have 5.5" Full HD (1920 x 1080 resolution) Super IPS+ display with up to 500cd/m2 brightness, ensuring that apps, videos, and games look their best. Sporting a narrow bezel, the Asus ZenFone 3 delivers a 77.3% screen-to-body ratio for a maximized viewing area in a slim and compact body. Both the front as well as the rear of the phone will arrive encased with scratch-resistant 2.5D Corning Gorilla Glass, where it gently curves to make the edge of the phone completely smooth.
16MP camera with ASUS TriTech autofocus that automatically selects 2nd generation laser, phase detection and continuous auto focus so that it can achieve precise focus in a matter of just 0.03 seconds.
ZenFone 3 Deluxe — World's First Full-Metal Smartphone with Invisible Antenna Design
ZenFone 3 Deluxe features a 5.7-inch Full HD (1920 by 1080) Super AMOLED display with a gamut of over 100% NTSC color space for rich, vibrant colors, even in harsh, outdoor lighting. An ultra-thin bezel gives ZenFone 3 Deluxe a 79% screen-to-body ratio for a maximized display in a compact package. Inside, ZenFone 3 Deluxe has a powerful Qualcomm® Snapdragon™ 820 Series processor, Adreno™ 530 GPU, and integrated X12 LTE modem, as well as up to 6GB RAM to deliver the best performance and fast connectivity for demanding apps, games, and media.
23MP camera featuring the latest Sony IMX318 image sensor, a large f/2.0 aperture lens, and 4-axis optical image stabilization for high-resolution, blur-free, and low-noise photos in almost any lighting condition. It also features 3-axis electronic image stabilization for steady 4K UHD videos.
ZenFone 3 Ultra — Unleashed, Unlimited, and Unrivaled
ZenFone 3 Ultra is a smartphone designed for multimedia lovers, featuring a 6.8-inch Full HD (1920 by 1080) display with a 95% NTSC color gamut for rich, vibrant images even outdoors in harsh lighting. It is the world's first smartphone to have ASUS-exclusive Tru2Life+ Video technology, which harnesses a high-end 4K UHD TV-grade image processor to optimize every pixel in each frame before it is displayed, resulting in superior contrast and clarity.
Like ZenFone 3 Deluxe, ZenFone 3 Ultra has an slim and elegant full-metal unibody chassis. An ultra slim bezel gives ZenFone 3 Ultra a 79% screen-to-body ratio, maximizing the viewing area while minimizing its overall size and weight. ZenFone 3 Ultra is equipped with the same high-resolution 23MP camera with ASUS TriTech autofocus system as ZenFone 3 Deluxe. Powered by the Qualcomm Snapdragon 652 octa-core processor, Adreno 510 graphics, and up to 4GB of RAM, ZenFone 3 Ultra delivers outstanding mobile performance.